5
AnArchitect ordered from me two portraits with different backgrounds.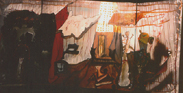 6
This is a tryptic showing an island where the arts rule.
- This is a car with an unusual look, conceived by an artist.
On this island money doesn't change hands, but you barter dinner or a house for art, depending on your talent and energy.

14
You do the work in one minute, and you save a years.
This painting is an illustration for the song entitled "Red Berries." It pictures two boys who fought each other over a girl.She doesn't know to whom she would give her red berries beads.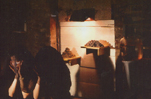 15
The more you are bored, the better you think.
The more cleve thoughtr, the better the mind process.