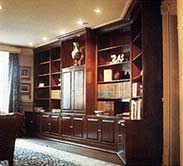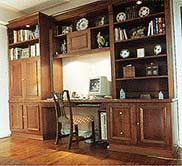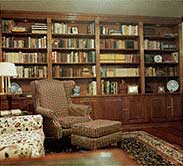 What Keeps You Well Read, Entertained, Organized and Increases the Value of Your Home?
A Shelf House Custom Library/Entertainment System Does!
We'll work with you every step of the way--assisting you with design, selecting the best hardwood materials, custom manufacturing your unit, helping you in selecting the proper finish, and finally providing expert custom installation.
In addition to the 30 years of experience you will receive with your purchase, we provide a guarantee for the life of your system that covers every aspect of our workmanship.
We are proud of each of our installations.
The Shelf House Advantage:
To summarize, here are the benefits you'll receive with the Shelf House:
* Our solid reputation (over 30 years of service)
* Assistance with design of your system
* Assistance in selecting a proper finish
* Complete installation service which includes the electronics
* Our guarantee of our craftsmanship for the life of your system.
All of our installations are custom fit to your walls. Our Shelf House installation team has done countless installations. They have the experience and knowledge to make your furniture beautiful and functional.
If you are unable to visit one of our showrooms then we can come to your home to plan with you your custom library, home office, or entertainment system. Our owner will bring his thirty years of experience to you along with pictures, samples of molding, and finishes. There is a fee for this service which is applied to an order. If you choose not to order the sketches are yours to keep and use. The fee, $600.00 will give you everything you require to jump start you on your way to a warm and rich room.
Thank you for visiting the Shelf House web site!Ê Please feel free to email us at shelfhouse@aol.com any questions you may have. Please call us or visit any of our showrooms to see our displays and to learn more about how Shelf House can add more beauty, functionality and value to your home. Four Locations
Four Locations
| | | | |
| --- | --- | --- | --- |
| 1031 Lexington Ave @74th St, NYC (212) 794-0730 | 523 Amsterdam Ave @85th St, NYC (212) 799-8005 | 806 Palisade Ave Teaneck. NJ (201) 836-1077 | 26 E. Putnam Ave Greenwich, CT (203) 862-8425 |
Fax for all location: (212) 794-0730
www.shelfhouse.com .....................................................................www.shelfhouse.cjb.net